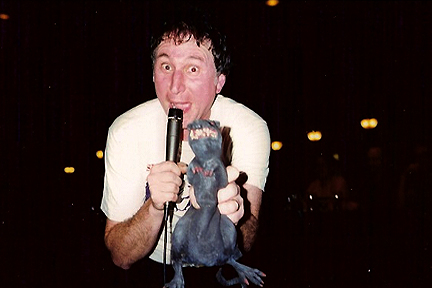 Interview with David Greenberger of
Cool and Strange Music!

Mudbugs, Triplets and Complaints
The Musical Trail of Ed "Moose" Savage by David Greenberger

Ed "Moose" Savage has not followed the traditional route into the world of music. He grew up in the sixties, loving music, but not picking up an instrument which would have led him into the frolicsome world of garage bands. Most people who took that route back then have long since jettisoned their instruments and now sport receding hairlines and middle-aged spread. Not so for Ed, slim and trim and with a full head of hair, he first took to the stage fronting bands in the mid-eighties, already into his thirties. He's subsequently followed his confident inclinations through the evolution of three bands, starting with his Moose & The Mudbugs, mutating into the Siamese Triplets, and finally emerging as Ed "Moose" Savage & His Litany of Complaints. Each of these bands featured Ed, front-and-center, with his partly-sung, partly-spoken, partly-shouted, always entertaining (and sometimes actually informative) rants, diatribes and observations on any subject that crosses his path. His "Iceberg Lettuce" is a prime example, as he rails against those who put down this durable vegetable ("It's the Chevrolet of lettuce!"). Talking by phone from his store in Boston, Picture Paradise, Ed told his tale with his customary high octane gusto.

What's your musical background?

I was nuts on music. I was really into catching a lot of shows, especially back the sixties type stuff, having grown up with that and going to the old Jewish Community Center dances when I was in high school, in Worcester. I'd see bands like the Mau Maus, they were a local band. And then actually, some of the bands that I think I caught put out a couple records, like Beep Beep & the Roadrunners, and I think the New Breed. The first actually official time I saw a band of pretty known status was at a place in Worcester called the Comic Strip, which was an old club in the sixties. I was about fifteen and who was playing, but Moulty & the Barbarians, so that was pretty cool for the first actual show that I caught. And then the first big, big show was the Jimi Hendrix Experience at Clark University, March 15th, 1968.

You remember the exact date!

Yup, because I've still got my ticket. And as it turns out now, March 15th is my wife's birthday, so it's kind of funny. But I do actually still have my ticket. And I ain't sellin' it! *(laughs)* It's all scrunched up because I carried it in my wallet forever. It looks pretty rough, but it's there.

Did you play any instrument when you were growing up?

I wasn't like an official type instrument person, but I've always played a mean kazoo, and I mean more than just a novelty. I would jam with people and I'd play it like people play horns and stuff. I'd play a little harmonic, and I play jew's harp -- I actually could play that thing pretty good.

I take it you've never had a problem with getting up in front of people and performing.

I was one of those people who, once I was comfortable in a situation, I definitely had no problem being a clown and a goofball. I've always been a smartass in a certain way and I am pretty comfortable with that. Growin' up, my mom would entertain at nursing homes. She'd do things in English and Yiddish, and she did it completely acapella. Occasionally she'd have a tape of some music behind her, and there were a couple times way back when she sang with an accordion player, but generally all her entertaining would be by herself, so it's in the blood.

You're a second generation performer!

Oh at least! What I've been told is that my great-grandfather was in a klezmer band in Russia. We've got a picture. So there's musical roots. It's just that what I was doin' wasn't necessarily copying any of it.

No, I don't hear any klezmer in your work. How did the bands evolve?

Moose & the Mudbugs started playing around '84. We had a 45 out, "Roach Under The Pillow," which I wrote back in high school -- I used to just sing it at parties, just me and a kazoo. After the Mudbugs I had a band called Siamese Triplets and Paul Dionne was the drummer, that's when I first started to work with him. That was in 1989.

Now he's your whole band, he's the entire Litany of Complaints.

That's right. You wanna know how the name came about? It is kind of funny. I do complain a bit -- I think even quite a bit I suppose. I especially tend to complain to my wife a lot, she tends to get the brunt of it. I came home one day, and I don't even know what I was complainin' about, but my wife Therese, she just said "You're a regular litany of complaints!" She figured she was insultin' me, but I was like, "Wow, I like that." And I just sort of filed that away and eventually when the time came, that was it, Ed "Moose" Savage & His Litany Of Complaints. She figured she was gettin' me on that, stickin' one in to me, but I was ecstatic in a sense. It's funny how things come about.

One guy singing and another playing drums. It could be thought of as avant garde, but it's not, it's almost folk music.

Often it does catch people by surprise. I mean, it is a little different. But before too long people do listen and they pay attention. Never in a billion years would it enter my mind that I'm doin' somethin' that somebody is not gonna be into. As far as I'm concerned it's "Hey, you're gonna love this!" I've definitely got no problem with having confidence in my shit.

You're jumping around singing and Paul's amazing to listen to. He's not playing like a rhythm section, he's the whole orchestra. And people get their bearings when they realize they're actual songs.

And they've got subject matter that people understand and relate too. In this form it's obviously right in your face, and that's my thing. Even when I had full band I used to be a stickler and go up to sound people and say I want those vocals right up there -- get those suckers up there! You'd have to always fight for that, but I'd make sure and do that. I don't write the damn things to be buried. And another thing is -- and this is important -- they're complaints and they're not whines. There's a fine line between complaint and whine and don't forget that!

There's resolution, it goes somewhere. Whining chases its own tail.

Yeah, right. There's no damn way I'm chasin' my tail! "Vinyl Siding," that song could go either way, and to be honest with you I'm no big fan of vinyl siding. Not that these songs are for sale or anything, but a vinyl siding company could certainly play that tune and it would seem like I'd be championing the cause of it. But I'm generally not a big fan of the stuff, but I do understand its use in certain cases. "Vinyl Siding" is a good dance number, too -- keep that in mind.